At Allegri, craftsmen and designers pay homage to crystal by offering an array of classic, timeless lighting designs, along with modern styles that transcend time. Allegri designs are dressed in exclusive Firenze Crystal. Firenze Crystal is sourced throughout the world to meet Allegri's exacting standards for machine cut, machine polished jewels with a coating that creates an amazing high degree of shine and refraction. When you need something superb, choose Allegri lighting.
Crystal lighting can be the perfect accent or center piece for your room. Allegri designs merge traditional inspiration with modern design aspects to create lighting fixtures that will stand the test of time. A large selection of crystal ceiling and wall lighting is grouped by carefully designed collections that allow you to carry the seamless decadence of Allegri crystal throughout your home.
Modern crystal lighting is the highlight of new introductions from Allegri Lighting. These modern crystal ceiling lights are a great way to infuse modern classics into a variety of decors. Modern crystal wall lights make the perfect accent light for your bedroom or bathroom. Modern & traditional fixtures are custom finished with a variety coatings to create lighting that can work with many styles of interior decor.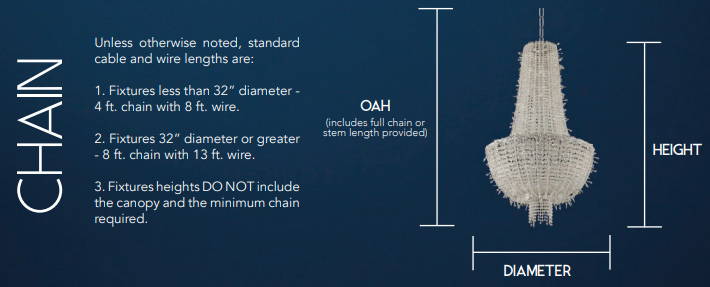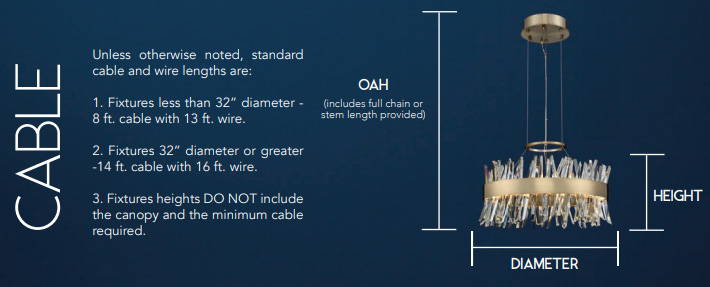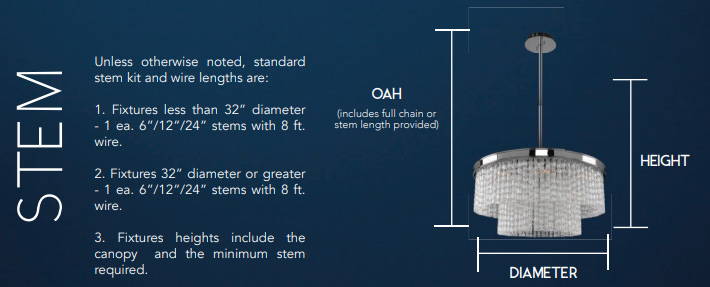 ELEGANT INDOOR CRYSTAL LIGHTING
When your room needs to exude refined luxury, Allegri crystal lighting can be the perfect choice. Simple and sophisticated, Allegri crystal can be used as the focal point or to accent your room. All crystals are hand sourced and coated with a proprietary coating to produce a dazzling dance of light through each crystal. Designer's use this beautiful refraction to create memorable spaces with natural and artificial light that dances through the room.
ALLEGRI MAKES STATEMENT LIGHTING
Need to make a statement in your room? Allgeri crystal lighting offers you unparalleled splendor through exquisitely crafted crystal fixtures and carefully thought out designs. Leverage the brilliance of cut crystal to create an elegant modern or traditional space.
Allegri crystal can stand on its own. With a gorgeous selection of large crystal chandeliers and pendants, Allegri crystal lighting can be used to make a statement in nearly any room of your home.
Fuse traditional crystal lighting with modern interiors for a balanced timeless decor. Or work any of Allegri's modern crystal pendant lighting into a traditional decor to create a unique lasting space. Need help finding the right crystal lighting? Ask the experts at Brand Lighting at (888) 991-3610!
At Brand Lighting we have been working with trade professionals or over 35 years. Our dedicated family of lighting experts regularly works with some of the worlds leading designers. If you are an interior designer, architect, builder or contractor you can apply for our Trade Program and access wholesale pricing as low as Cost+10 on Allegri and many more premier lighting manufacturers. Visit our Trade Application page to learn more about our lighting program benefits for professionals or call your dedicated success representative at (888) 991-3610.
Have a project that needs the perfect light? We work closely with Allegri and many other custom lighting vendors to create some of the most memorable lighting available. If your project requires crystal lighting customization of finishes, sizes or features we can accommodate even the most demanding clientele. Ask our seasoned lighting professionals how we can help you speciy and build custom crystal lighting for your next residential or commercial interior design project.
BRAND LIGHTING - ALLEGRI LIGHTING EXPERTS IN SOUTH FLORIDA
For over 35 years the Blum family at Brand Lighting has been helping trade professionals and homeowners find the best Allegri lighting for their project. Brand Lighting works closely with you to make sure you find just the right light for your commercial or residential lighting project. Call our family of seasoned lighting experts today to explore all the lighting options from Allegri Lighting available at Brand Lighting. (888) 991-3610