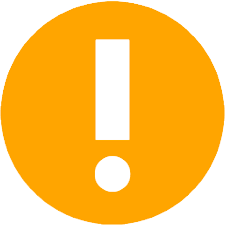 This page was from our old website and may contain outdated information. New products and information can be found through our Products menu above or the links below. Please contact us with any product information or availability questions at (888) 991-3610.
Fanimation Bourbon Street Collection
Antique Reproduction Belt-Drive Ceiling Fans
More Fanimation fans can be found on other Ceiling Fans pages.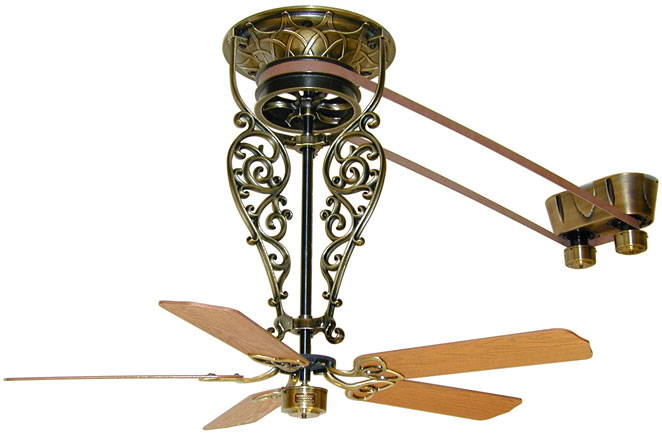 FP520AB (1) antique brass finish long fan assembly
FP1018 (1) oak/walnut finish standard reversible blades
FP580AB (1) antique brass finish motor
Fanimation Bourbon Street Collection Antique Reproduction Belt-Drive Ceiling Fans
Combining old-world elegance with newest technology gives The Bourbon Street® fan a truly unique flare.
Available in antique brass and black
FP510 short: 21" from ceiling to bottom of switch housing
FP520 long: 36" from ceiling to bottom of switch housing
220v motor available in all finishes
12° blade pitch with FP1018 blades
Blade sets sold separately
Motor has limited lifetime warranty
Fan spacing from 6' to 16' with up to six fans operating off a single motor
Includes 40' of belting (max. distance between center of motor and center of fan base is 16')
Rubber fly-wheel allows mounting of four or five blades
Not to be used in sound-sensitive areas
The BLACK version is produced to DAMP location specifications
Can be used in a DAMP setting with plastic blades
AB versions are NOT recommended for DAMP settings
No built-in capability of adjusting for a slope ceiling. See the FAQ under product support for alternate options.
The Bourbon Street carries on Fanimation's reputation for reproducing unusual, yet functional, belt-drive fans. These fans were originally produced in the late 1800s by Snediker & Carr' the premier belt-drive fan manufacturer of their day. Fanimation has adapted this timeless masterpiece to install and operate with more ease and durability.
Neoprene belting replaces the high-maintenance leather belts.
Lead and copper babbitt sleeves have given way to sealed ball bearings.
Hardwood laminate blades that resist warping and splitting replace the temperamental solid wood blades. The Brewmaster®combines the latest technology with several blade options including the original oversized wood blade design. The Brewmaster is powered by a gearless direct drive motor and allows you to operate one or two fans.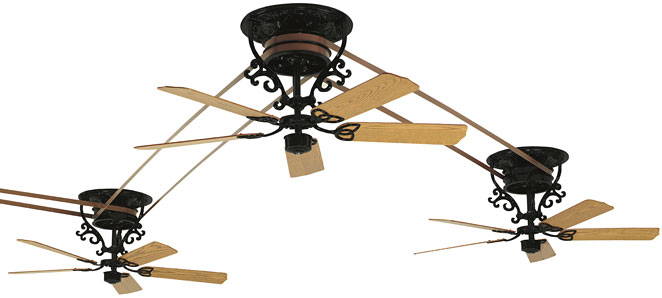 FP510BL (3) black finish short fan assembly
FP1018 (3) oak/walnut finish standard reversible blades
FP580BL (1) black finish motor
Fanimation Bourbon Street Collection Antique Reproduction Belt-Drive Ceiling Fans
Available Blades
Blade Holders
BH20AB Wood Blade Holders
BH20BL Wood Blade Holders
BH20MW Wood Blade Holders
BH20PW Wood Blade Holders
BH20RS Wood Blade Holders
BH20SN Wood Blade Holders
Composite
BPD1A 22" antique finish wide oval composite woven bamboo blades
BPD4A 22" antique finish narrow oval composite woven bamboo blades
BPD4BL 22" black finish narrow oval composite woven bamboo blades
BPP1 22" natural finish wide oval composite palm leaf blades
BPP4 22" natural finish narrow oval composite palm leaf blades
BPP4BR 22" brown/red finish narrow oval composite palm leaf blades
BPP4GR 22" green finish narrow oval composite palm leaf blades
Woven Bamboo
ISD1A 22" antique finish wide oval woven bamboo blades
ISD1C 22" clear finish wide oval woven bamboo blades
ISD2A 18" antique finish wide oval woven bamboo blades
ISD4A 22" antique finish narrow oval woven bamboo blades
ISD4C 22" clear finish narrow oval woven bamboo blades
ISD7A 22" antique finish standard oar woven bamboo blades
Available Lighting
Light Kits
LK112A 10" antique finish bamboo shade with white frosted glass light kit
LK122A 13" antique finish bamboo shade with white frosted glass light kit
LK250 13" white frosted bowl light kit
LKLP101 Low Profile Light Kit
LKLP102 Low Profile Light Kit
Fitters
F301 3-light fitter
F401 4-light standard fitter
F404 4-light traditional fitter
F423 3-light bowl fitter
Fanimation Bourbon Street Collection Antique Reproduction Belt-Drive Ceiling Fans
Available Blades
Natural Palm Leaf
ISP1 22" natural finish wide oval natural palm leaf blades
ISP1RB 22" red/brown finish wide oval natural palm leaf blades
ISP2 18" natural finish wide oval natural palm leaf blades
ISP4 22" natural finish narrow oval natural palm leaf blades
ISP4RB 22" red/brown finish narrow oval natural palm leaf blades
ISP5 18" natural finish narrow oval natural palm leaf blades
Wood
B4000CA Cairo purple/adirondack pine finish narrow wood blades
B4010CP Cairo purple finish narrow oval leaf carved wood blades
B4020SS Sambel sand finish narrow oval carved wood blades
B4040CP Cairo purple finish standard oar carved wood blades
B4060CP Cairo purple finish carved wood blades
B6000CY 36" cherry finish curved wood blade
B6000MH 36" mahogany finish curved wood blade
B6000MP 36" maple finish curved wood blade
B6000TK 36" teak finish curved wood blade
B6030CY 30" cherry finish curved wood blade
B6030MH 30" mahagony finish curved wood blade
B6030MP 30" maple finish wood blade
B6030TK 30" teak finish curved wood blade
FP1018 Oak/walnut finish standard reversible blades
Glass
G100C Clear ribbed glass
G100F White frosted ribbed glass
G210 13" frosted tropical glass bowl
G226 Amber/brown mosaic glass
G235 Frosted tropical etched glass
G239 Hand-painted parrot glass
G244 Aged Bronze/amber shade
G250 Amber glass
G256 White frost glass
G426 13" amber/brown mosaic glass bowl
G439 13" hand-painted parrot glass bowl
G450 13" amber glass bowl
G451 13" powdered amber glass bowl
G456 13" white frost glass bowl
G458 13" milky white swirl glass bowl