Fine Art Lamps is an American light fixture manufacturer and designer. Known for its expert workmanship, Fine Art Lamps is dedicated to delivering quality products and impeccable customer service.
Fine Art Lamps services locally and globally, showcasing their beautiful designs in over sixty countries around the globe. If you are looking to add a dramatic statement to your next lighting project, Fine Art Lamps has the quality, the craftsmanship, and the style to compliment any decor.
No matter if you are looking for interior or exterior lighting, Fine Art Lamps has amazing options. If you are looking to lighten up your home in a way that is both distinct and magnificent, Brand Lighting and Fine Art Lamps have the creations to inspire your every dream. Fine Art Lamps is now known as Fine Art Handcrafted Lighting!
From exquisite interiors to carefully crafted outdoor experiances, Fine Art Handcrafted Lighting can be a subtle accent or statement piece in your space. Designers from around the world choose Fine Art Lamps when only the best will do, now we bring their spectacular collections directly to you.
For the new decade Find Art Lighting has released a series of exceptional indoor and outdoor lighting collections. All Fine Art Handcrafted Lighting is designed and manufactured in the USA by expert artisans. This exquisite line of lighting is available in custom finishes and dimensions through our Trade Partner Program. APPLY HERE
Max Blumberg started his glass-making factory at the end of the 19th century, which his son Jack later turned into Fine Art Lamps. The company was developed around the history and necessity of lighting in all areas of the world. Not only are lamps crucial to a home's functionality, as they increase the brightness levels of rooms with little-to-no ceiling lighting, but they are also a staple design element.
Fine Art Lamps is committed to designing and creating intricate lighting and studio glass that enhances and compliments each space. Fine Art Lamps is the leading provider of high-end interior and exterior designer lighting. The award-winning company pledges to manufacture all of its products in the United States.
Although Fine Art Lamps will always keep their core values in mind, they are not afraid to take chances on modern design. Whether you're looking for a complicated work of art or a simple yet divine light fixture, you will find it with Fine Art Lamps.
Bespoke lighting allows for an unlimited amount of lighting creations and designs. Whether your space needs an ornate chandelier, functional lamp or stylish sconce, bespoke can bring your vision to life. Each light fixture embodies craftsmanship at its finest and is completely customizable - from the material to the shape, each product is made just for you.
Our seasoned custom lighting experts are here to help you realize your vision. Let us help you create a work of art that will resonate with your client for generations to come. Fine Art Lamps and Brand Lighting work closely together from specification to delivery to ensure your sati. Located within 20 mins of our showroom, the Fine Art staff is both friendly and easly accessible to work closely on custom lighting projects.
With so many light fixtures on the market, it can be quite overwhelming to select the perfect piece for your high-profile space. That's where Fine Art Lamps exceeds expectations. As a U.S. manufacturer, Fine Art Lamps can provide custom lamps, and unique, original light fixtures to their customers.
Our Fine Art Experts are equipped to provide excellent service and advice to capture your design concepts and overall vision. Fine Art Lamps proudly provides design, engineering, metalworking, casting, servicing, finishing, assembly and testing, shade-making, packaging, sourcing, and logistical capabilities to its customers.
Whether you are looking for flush mount lights, office lamps, task lamps, wall lighting, outdoor wall lights, or ceiling lights, Fine Art Lamps' team of decorative artists will create your perfect lighting solution.
Fine Art Lamps has been a design leader, creating true works of art – innovative designs, beautifully crafted forms of metal, glass and unique materials. Exquisite finishes are the company's hallmark, and many finishes take countless steps to achieve the desired effect. Each finish is handcrafted making it a one-of-a-kind work of art.
Fine Art Lamps is proud of its pledge to manufacture in America, believing it ensures design integrity, quality control, reliable delivery, and personal service. Today, Fine Art Lamps serves an international clientele with galleries in over sixty countries around the world. All standard products are available in 220V and most standard products can be customized.
In all, Fine Art Lamps represents the singular vision of over 700 skilled designers, craftspeople, artists, and associates working together to create unique works of art – an intricate blend of Old World tradition melded with New World innovation-providing designer lighting fixtures worthy of our customer's confidence.
Fine Art Lamps has been honored with numerous design awards, including the prestigious ARTS Manufacturer of the Year Award an unprecedented nine times, and the company was recently inducted into the ARTS Hall of Fame.
Elegant yet uniquely modern, the all new Newton collection is carved and arrayed crystal planes of glass. Newton was inspired by the light play of prisms. Contemporary in form and silhouette, these sculptures of metal and light offer the color-infused prismatic brilliance of multi-faceted glass in an ordered sensibility.
Foret is a collection inspired by nature and its majestic forests, Forêt features modern branches adorned with bold, hand cut faceted crystal leaves, each hand finished in your choice of silver leaf or gold leaf. Merging the space between modern and traditional, Forêt will be the dramatic centerpiece in any interior design.
Fine Art Handcrafted Lighting adds new sconces and pendants to it elegant outdoor lighting line. The outdoor collection is available in all weather finishes but can be used indoors in many of the standard finishes as well.
New additions to the Delphi collection expands on this popular series of indoor and outdoor lighting fixtures. With simple and elegant lines, the Del[phi series is a transitional fixture that can work with many styles of decor.
The Terra outdoor lighting series extends its collection with extra large wall sconces for dramatic exterior entrances or indoor walkways.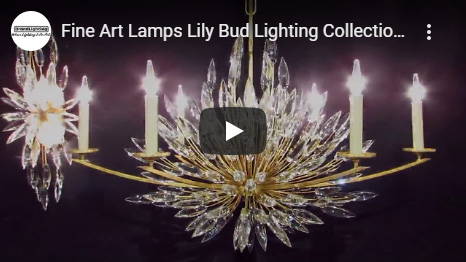 A perfectly paired combination of crystals and lily buds forms an astonishing lighting effect that is both elegant and natural. Chandeliers, pendants, and sconces make up this organic and eye-catching collection. Available in chandeliers, pendants, and sconces, the lighting designs in the Lily Buds Collection complements the living room, dining room, or any other space.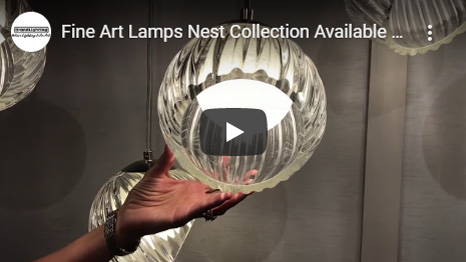 Inspired by the spherical shapes of the sun and moon, the Nest Collection captures the awe-inspiring fascination of light in the sky. Each nest is formed from two layers of hand-blown glass surrounding a dazzling light. Available in eight vibrant jewel tones and gold or silver leaf tones, the Nest light is the perfect addition for a classically beautiful room.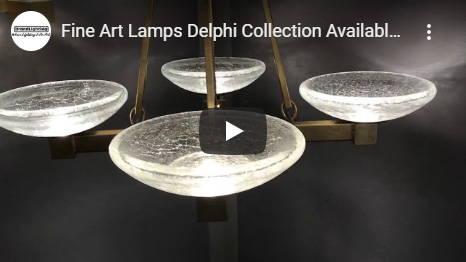 The Delphi Collection was inspired by the ancient Oracle of Delphi, hoping to shed the light of truth on the lives of its owners. The symmetrical and linear design is simple and timeless, bringing a modern feel to your world.
Fine Art Handcrafted Lighting has created a collection destined to inspire. "Elevate" establishes a platform that can unlock design concepts in unlimited vertical and horizontal spaces. The suspension of uniquely designed elements in American studio glass allow for infinite opportunities in space design. From our pre-configured canopies with LED down lighting, to custom elements created for site-specific large-scale installations, Elevate is truly a work of Fine Art! Challenge us to "Elevate" your uniquely designed environment.
The musical tempo, Allegretto, is both swift and relaxing. This lighting collection gets its beauty from the sound of music. Each line is drawn, and each curve is made as a depiction of a conductor carefully orchestrating his choir. The Allegretto Collection is available in silver leaf or tarnished gold leave with brown highlights and a white textured linen shade.
FINE ART INSPIRATION GALLERY
BRAND LIGHTING YOUR FINE ART LAMPS LIGHTING EXPERTS IN SOUTH FLORIDA
When it comes to Fine Art Lamps, the only limits are your creativity. The stunning beauty offered by Fine Art Lamps' impressive range of products makes this unique brand the perfect choice for your next home decor project. If you want to wow visitors to your home, make sure you check out Brand Lighting. We offer the highest-quality lighting fixtures and accessories at the most competitive of prices. Brand Lighting has over 35 years of experience in providing homeowners, contractors, and designers with the perfect lighting. We have the expertise and know-how to make sure your next lighting project is done right, Call our lighting experts today at 888-991-3610 or visit our showroom to get started now.