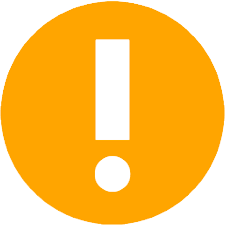 This page was from our old website and may contain outdated information. New products and information can be found through our Products menu above or the links below. Please contact us with any product information or availability questions at (888) 991-3610.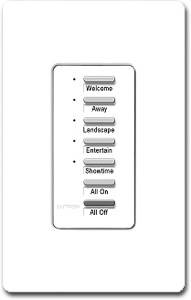 Lutron RadioRA Home Dimming System
A RadioRA Home Dimming System gives you convenient, one-touch control of all your home lighting. With RadioRA, lights can be turned on and off from anywhere, including your car! Touch the Car Visor Control's "Home" button as you're approaching to turn on interior and exterior lights, safely lighting a path into and through your home.
RadioRA is a home dimming system that can be installed in any home, new or existing, without rewiring. Simply replace existing switches with RadioRA Dimmers and add Master Controls to any convenient location to create one-touch lighting control of your entire home.
RadioRA, the world's first radio frequency lighting control system, uses innovative communication technology and built-in safeguards to ensure reliable wireless communication between all system components. RadioRA can be installed in any home-- including existing homes, late-stage construction, and new homes - without rewiring.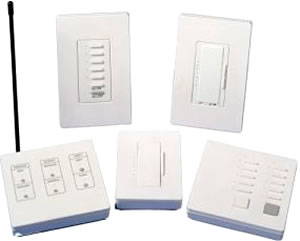 Lutron RadioRA Home Dimming System
FD Signal Repeater receives and repeats all signals, providing and additional path for added reliability of all RadioRA communications.
Lutron RadioRA Home Dimming System
RadioRA system components are available in a wide variety of colors and styles to best suit your needs.
Push button on Master Control
Master Control sends command to dimmer.
Dimmer turns on lights
Dimmer sends response to Master Control
Master Control turns on LED to confirm lights are on.
RadioRA Wall-Mounted Dimmers
Each wall-mounted dimmer controls one zone, or area, of light in a RadioRA system.

Single-Location Dimmers
Multi-Location Dimmers
Accessory Dimmer
RadioRa table lamp Dimmer
Each RadioRA lamp dimmer controls one Table or Floor lamp in a RadioRA system, providing local on/off and dimming control.
Table Lamp Dimmer
RadioRA Switches
Each switch controls one zone, or area, of light in a RadioRA system.
Single-Location Switch
Multi-Location Switch
Accessory Switch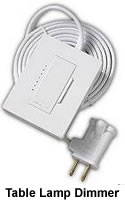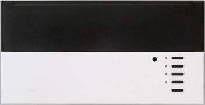 RadioRA Accessories
Accessories can be used to enhance the functionality of a RadioRA system.
Chronos™ System Bridge and Timeclock
Switch Closure Interface
RF Signal Repeater Switch Closure Interface
SivoiaTM Control Telephone Interface
GRAFIK RATM Astronomic Timeclock
GRAFIK Eye® Interface Infrared Interface
Car Visor Control Transmitter RS-232 Interface
Multi-Function Entry Master Control
Graphik Ra provides convenient control of all lights in a single room or area
Set and recall four lighting scenes for the way you use a room
Built-in infrared receiver permits control from optional wireless remote control
Provides direct control of a GRAFIK Eye® lighting control through RadioRA
Each multi-zone unit counts as one control toward the RadioRA system maximum of 32 local controls
Model #:
RA-GRX-3- (3-zone)
RA-GRX-4- (4-zone)
RA-GRX-6- (6-zone)
Colors:
White
Beige
Ivory
Grey
Brown
Black
Metal, Gloss, and Special Metal finishes are available. Ask for more information.