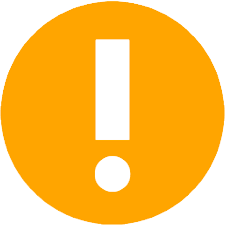 This page was from our old website and may contain outdated information. New products and information can be found through our Products menu above or the links below. Please contact us with any product information or availability questions at (888) 991-3610.
Stain Grade Wood Ceiling Medallions

The Artistry of Wood Carving

Born of original design
A true carved wood product is authentic as millwork items get. Every wood carving that Ekena Millworks carry has been carefully designed to match either historic or contemporary architectural elements. Ekena Millworks vast collection of architectural woodcarvings is sure to meet any design requirements you may have.
As the manufacturer, Ekena Millworks have direct control over the quality of wood utilized in all product carvings. All Ekena Millworks raw materials are equal to or higher quality than required by such organizations as AWI, NHLA, KCMA and The Hardwood Council. Only the strongest Type-1 waterproof glue is used in the production of Ekena Millworks wood products. With high quality control standards, Ekena Millworks monitors each step of the manufacturing process to ensure both the natural beauty and the quality needed to stand the test of time.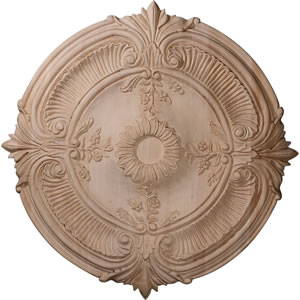 Ekana Millworks CMW16AC : CMW16ACCH Cherry
Ready to be stained Ceiling Medallion
$327.03
16" OD x 1 1/8" P Carved Acanthus Leaf Ceiling Medallion, Cherry
Wood - Stain Grade Cherry
Ready to be stained
Ekana Millworks CMW16AC : CMW16ACMA Maple
Ready to be stained Ceiling Medallion
$272.52
16" OD x 1 1/8" P Carved Acanthus Leaf Ceiling Medallion, Maple
Wood - Stain Grade Maple
Ready to be stained
Ekana Millworks CMW16AC : CMW16ACRO Red Oak
Ready to be stained Ceiling Medallion
$194.65
16" OD x 1 1/8" P Carved Acanthus Leaf Wood Ceiling Medallion, Red Oak
Wood - Stain Grade Red Oak
Ready to be stained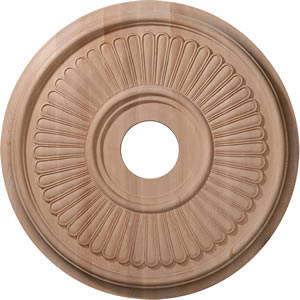 Ekana Millworks CMW16BE : CMW16BECH Cherry
Ready to be stained Ceiling Medallion
$193.49
16" OD x 1 1/8" P Carved Berkshire Ceiling Medallion, Cherry
Wood
Stain Grade Cherry
Ready to be stained
Ekana Millworks CMW16BE : CMW16BEMA Maple
Ready to be stained Ceiling Medallion
$161.24
16" OD x 1 1/8" P Carved Berkshire Ceiling Medallion, Maple
Wood
Stain Grade Maple
Ready to be stained
Ekana Millworks CMW16BE : CMW16BERO Red Oak
Ready to be stained Ceiling Medallion
$115.17
16" OD x 1 1/8" P Carved Berkshire Ceiling Medallion, Red Oak
Wood
Stain Grade Red Oak
Ready to be stained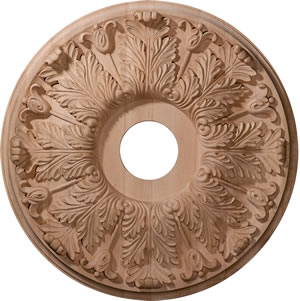 Ekana Millworks CMW16FL : CMW16FLCH Cherry
Ready to be stained Ceiling Medallion
$357.36
16" OD x 3 7/8" ID x 1 1/8" P Carved Florentine Ceiling Medallion, Cherry
Wood
Stain Grade Cherry
Ready to be stained
Ekana Millworks CMW16FL : CMW16FLMA Maple
Ready to be stained Ceiling Medallion
$297.80
16" OD x 3 7/8" ID x 1 1/8" P Carved Florentine Ceiling Medallion, Maple
Wood
Stain Grade Maple
Ready to be stained
Ekana Millworks CMW16FL : CMW16FLRO Red Oak
Ready to be stained Ceiling Medallion
$212.72
16" OD x 3 7/8" ID x 1 1/8" P Carved Florentine Ceiling Medallion, Red Oak
Wood
Stain Grade Red Oak
Ready to be stained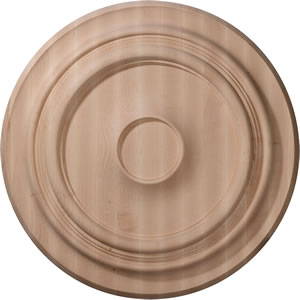 Ekana Millworks CMW16TR : CMW16TRCH Cherry
Ready to be stained Ceiling Medallion
$114.54
16" OD x 1 1/8" P Carved Traditional Ceiling Medallion, Cherry
Wood
Stain Grade Cherry
Ready to be stained
Ekana Millworks CMW16TR : CMW16TRMA Maple
Ready to be stained Ceiling Medallion
$95.46
16" OD x 1 1/8" P Carved Traditional Ceiling Medallion, Maple
Wood
Stain Grade Maple
Ekana Millworks CMW16TR : CMW16TRRO Red Oak
Ready to be stained Ceiling Medallion
$75.76
16" OD x 1 1/8" P Carved Traditional Ceiling Medallion, Red Oak
Wood
Stain Grade Red Oak
Ready to be stained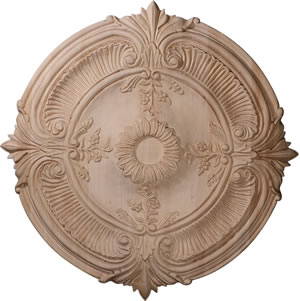 Ekana Millworks CMW20AC : CMW20ACCH Cherry
Ready to be stained Ceiling Medallion
$521.34
20" OD x 1 3/4" P Carved Acanthus Leaf Ceiling Medallion, Cherry
Wood
Stain Grade Cherry
Ready to be stained
Ekana Millworks CMW20AC : CMW20ACMA Maple
Ready to be stained Ceiling Medallion
$434.44
20" OD x 1 3/4" P Carved Acanthus Leaf Ceiling Medallion, Maple
Wood
Stain Grade Maple
Ready to be stained
Ekana Millworks CMW20AC : CMW20ACRO Red Oak
Ready to be stained Ceiling Medallion
$310.32
20" OD x 1 3/4" P Carved Acanthus Leaf Ceiling Medallion, Red Oak
Wood
Stain Grade Red Oak
Ready to be stained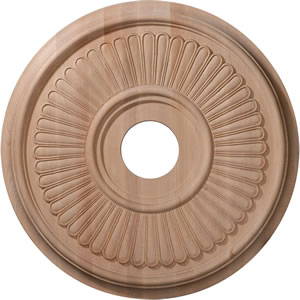 Ekana Millworks CMW20BE : CMW20BECH Cherry
Ready to be stained Ceiling Medallion
$369.53
20" OD x 1 3/4" P Carved Berkshire Ceiling Medallion, Cherry
Wood
Stain Grade Cherry
Ready to be stained
Ekana Millworks CMW20BE : CMW20BEMA Maple
Ready to be stained Ceiling Medallion
$307.94
20" OD x 1 3/4" P Carved Berkshire Ceiling Medallion, Maple
Wood
Stain Grade Maple
Ready to be stained
Ekana Millworks CMW20BE : CMW20BERO Red Oak
Ready to be stained Ceiling Medallion
$219.96
20" OD x 1 3/4" P Carved Berkshire Ceiling Medallion, Red Oak
Wood
Stain Grade Red Oak
Ready to be stained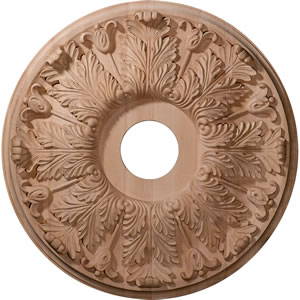 Ekana Millworks CMW20FL : CMW20FLCH Cherry
Ready to be stained Ceiling Medallion
$551.68
20" OD x 1 3/4" P Carved Florentine Ceiling Medallion, Cherry
Wood
Stain Grade Cherry
Ready to be stained
Ekana Millworks CMW20FL : CMW20FLMA Maple
Ready to be stained Ceiling Medallion
$459.73
20" OD x 1 3/4" P Carved Florentine Ceiling Medallion, Maple
Wood
Stain Grade Maple
Ready to be stained
Ekana Millworks CMW20FL : CMW20FLRO Red Oak
Ready to be stained Ceiling Medallion
$328.38
20" OD x 1 3/4" P Carved Florentine Ceiling Medallion, Red Oak
Wood
Stain Grade Red Oak
Ready to be stained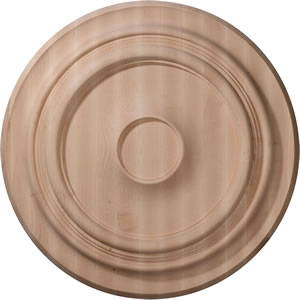 Ekana Millworks CMW20TR : CMW20TRCH Cherry
Ready to be stained Ceiling Medallion
$278.52
20" OD x 1 3/4" P Carved Traditional Ceiling Medallion, Cherry
Wood
Stain Grade Cherry
Ready to be stained
Ekana Millworks CMW20TR : CMW20TRMA Maple
Ready to be stained Ceiling Medallion
$232.10
20" OD x 1 3/4" P Carved Traditional Ceiling Medallion, Maple
Wood
Stain Grade Maple
Ready to be stained
Ekana Millworks CMW20TR : CMW20TRRO Red Oak
Ready to be stained Ceiling Medallion
$165.79
20" OD x 1 3/4" P Carved Traditional Ceiling Medallion, Red Oak
Wood
Stain Grade Red Oak
Ready to be stained
Ekana Millworks CMW24AC : CMW24ACCH Cherry
Ready to be stained Ceiling Medallion
$788.81
24" OD x 2 1/4" P Carved Acanthus Leaf Ceiling Medallion, Cherry
Wood
Stain Grade Cherry
Ready to be stained
Ekana Millworks CMW24AC : CMW24ACMA Maple
Ready to be stained Ceiling Medallion
$657.34
24" OD x 2 1/4" P Carved Acanthus Leaf Ceiling Medallion, Maple
Wood
Stain Grade Maple
Ready to be stained
Ekana Millworks CMW24AC : CMW24ACRO Red Oak
Ready to be stained Ceiling Medallion
$469.53
24" OD x 2 1/4" P Carved Acanthus Leaf Ceiling Medallion, Red Oak
Wood
Stain Grade Red Oak
Ready to be stained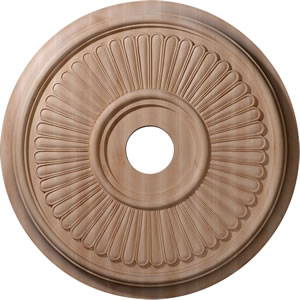 Ekana Millworks CMW24BE : CMW24BECH Cherry
Ready to be stained Ceiling Medallion
$631.03
24" OD x 2 1/4" P Carved Berkshire Ceiling Medallion, Cherry
Wood
Stain Grade Cherry
Ready to be stained
Ekana Millworks CMW24BE : CMW24BEMA Maple
Ready to be stained Ceiling Medallion
$525.86
24" OD x 2 1/4" P Carved Berkshire Ceiling Medallion, Maple
Wood
Stain Grade Maple
Ready to be stained
Ekana Millworks CMW24BE : CMW24BERO Red Oak
Ready to be stained Ceiling Medallion
$375.62
24" OD x 2 1/4" P Carved Berkshire Ceiling Medallion, Red Oak
Wood
Stain Grade Red Oak
Ready to be stained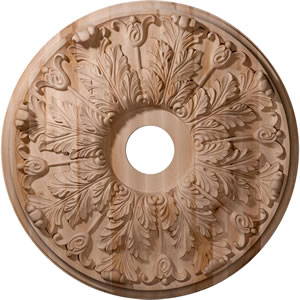 Ekana Millworks CMW24FL : CMW24FLCH Cherry
Ready to be stained Ceiling Medallion
$819.15
24" OD x 2 1/4" P Carved Florentine Ceiling Medallion, Cherry
Wood
Stain Grade Cherry
Ready to be stained
Ekana Millworks CMW24FL : CMW24FLMA Maple
Ready to be stained Ceiling Medallion
$682.62
24" OD x 2 1/4" P Carved Florentine Ceiling Medallion, Maple
Wood
Stain Grade Maple
Ready to be stained
Ekana Millworks CMW24FL : CMW24FLRO Red Oak
Ready to be stained Ceiling Medallion
$487.60
24" OD x 2 1/4" P Carved Florentine Ceiling Medallion, Red Oak
Wood
Stain Grade Red Oak
Ready to be stained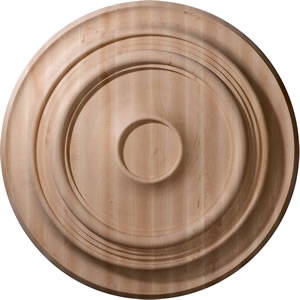 Ekana Millworks CMW24TR : CMW24TRCH Cherry
Ready to be stained Ceiling Medallion
$515.67
24" OD x 2 1/4" P Carved Traditional Ceiling Medallion, Cherry
Wood
Stain Grade Cherry
Ready to be stained
Ekana Millworks CMW24TR : CMW24TRMA Maple
Ready to be stained Ceiling Medallion
$429.72
24" OD x 2 1/4" P Carved Traditional Ceiling Medallion, Maple
Wood
Stain Grade Maple
Ready to be stained
Ekana Millworks CMW24TR : CMW24TRRO Red Oak
Ready to be stained Ceiling Medallion
$306.94
24" OD x 2 1/4" P Carved Traditional Ceiling Medallion, Red Oak
Wood
Stain Grade Red Oak
Ready to be stained