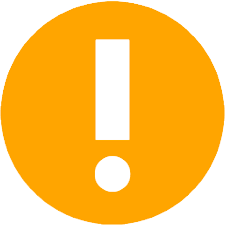 This page was from our old website and may contain outdated information. New products and information can be found through our Products menu above or the links below. Please contact us with any product information or availability questions at (888) 991-3610.
Large Wall Sconces and Tall Wall Brackets
The large scales available in this Collection of sconces and wall brackets make these an excellent choice for large interiors and commercial or hospitality applications.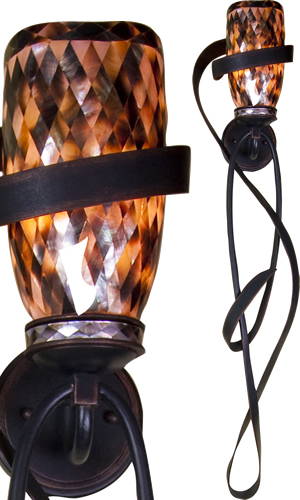 Kalco Monaco Long Wall Bracket 6011AC in Antique Copper finish with Black iridescent shell shades
1540 – Monaco Opal Pearl Side Glass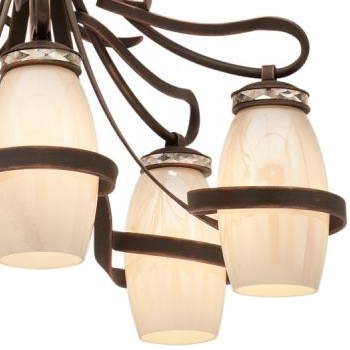 Kalco 6011 Monaco Long Wall Bracket
6011AC/PEARL Retail: $598.00
d: 9" x Height 41.75"
(1) 60-watt medium base
Finish: AC – Antique Copper
Shades: 1540 – Monaco Opal Pearl Side Glass

Uttermost 22431 Legato Glass Wall Torchier from the Legato Collection
Designed by Carolyn Kinder
Retail Price: 22431 $217.80
The linear complexity of this design is unique and intriguing, yet somehow very simple with its own quiet elegance. This collection can move easily from casual thru contemporary and the classic shape of the scavo glass softens and relaxes the effect to give it a long term appeal.
Finish: Distressed Chestnut Brown with Heavily Frosted, Scavo Glass Globes.
Material: Metal, Glass
Dimensions: Overall Diameter 12.75", Overall Width 10", Overall Height 49.5"
Weight: 12 lbs.
Chain: L 18AWG 1015 105degree 1'Long
Voltage: 110
1 x 100W
Bulbs not included
Shade: Height 5", Width 10", Diameter 10"
Coordinates with Uttermost 20225, 21079, 21080, 21081, 21082, 21083, 21828, 21829, 22217, 22430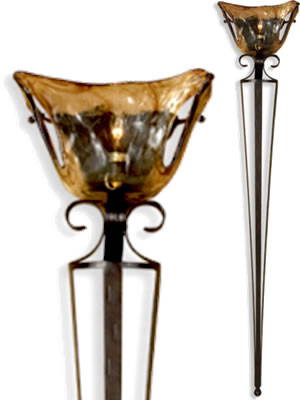 Uttermost 22403 Vetraio Glass Wall Torchier Sconce Bracket from the Vetraio Collection
Designed by Carolyn Kinder
Retail Price: $301.40
Heavy hand made glass is held in classic european iron works giving these pieces a contemporary quality, with strong traditional appeal as well.
Finish: Oil Rubbed Bronze.
Material: Metal, Brass, Glass
Dimensions: Overall Diameter 6", Overall Width 12", Overall Height 60"
Weight: 17 lbs.
Chain: L 18AWG 3321 150 Degree 12inch Long
Voltage: 110
1 x 60W
Bulbs not included
Shade: Height: 7.1, Width: 12, Depth: 5.9
Coordinates with Uttermost 26302, 28403, 29604-1, 21005, 21006, 21007, 21008, 21009, 21801, 22200, 22402, 22800, 22801, 22845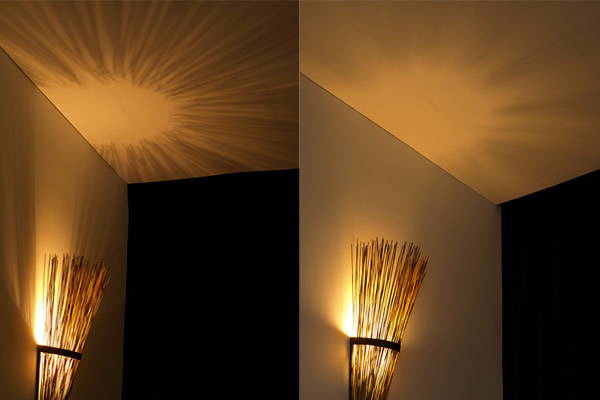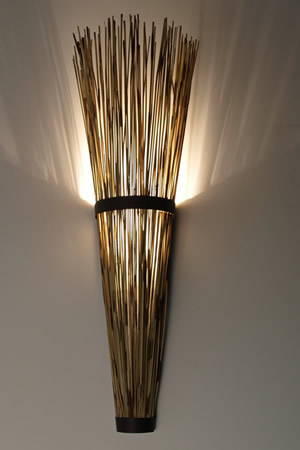 Fire Farm 1S Large Reed Sconce
Adam Jackson Pollock
$595.00
The natural thatch reeds of this sconce are stabilized at the bottom by an inside diffuser creating a warm glow. The reeds are left free at the top.
The shade measures 3" wide across the bottom, to 9" wide at the top. This large sconce is 30" tall.
The newest addition to Fire Farm's collection of stock products started out as a custom-designed piece for a large metropolitan restaurant. The owners reported so much interest and so many inquiries from customers as to where they could purchase something similar that Fire Farm designed a modified version to include in the stock product line.
Overall Dimensions: 30"H x 9"W x 7"D
Bulb: 1 x 60w Type T Medium Base Bulb (Dimmable)
or
1 x 26w Type T4 GX24Q-3 Base Bulb (Not Dimmable)
Made in: USA
Shade: Reeds only
Base Finish Options: Rust only
TexThe mellow feel of the natural thatch reeds is enhanced by the soft light filtered through an inside diffuser. The closer to the ceiling the fixture is hung the more distinct are the radiant beams of light reflected through the open top reeds. Additional effects can be observed by the use of incandescent (shown below, left) or Fluorescent (below, right) bulbs.t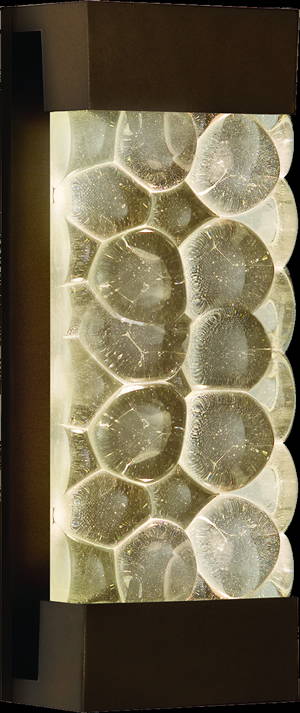 Fine Art Lamps 810950 Indoor/Outdoor Wall Light from the Crystal Bakehouse Collection
Indoor/Outdoor wall-mounted art-glass sconce in silver or Bronze finish with handcrafted, polished block of Crystal Shards or River Stones.
H 18" x W 7" x D 4"
2 x 13 watt GU 24 CFL Mini Spiral
Bronze Finish
-13
Bronze finish with Crystal Shards
-14
Bronze finish with Crystal River Stones
Silver Finish
-23
Silver finish with Crystal Shards
Indoor Only Silver Leaf Finish
-34
Silver leaf finish with Crystal River Stones
Made in USA.
Most Fine Art Lamps products can be customized and may be converted to 220v.
Please email us, Phone 954-456-1006 or 888-991-3610 or Fax us at 954-456-1098 for more information on pricing on Fine Art Lamps.