Philips Hadco Landscape Lighting by Signify
Philips Hadco has been a leader in manufacturing high-performance, exceptional quality, decorative outdoor lighting products since 1953. Proudly and professionally serving the Municipal, Utility, Commercial, and Residential lighting markets, Hadco's lean, made-to-order philosophy and commitment to providing the landscape lighting industry's shortest lead times allow them to consistently meet or exceed customers expectations. Philips Hadco specializes in custom and modified products and utilizes the latest lighting and production technologies available.
Philips Hadco lighting is a premier supplier of exterior commercial landscape lighting. This industry proven line of LED line and LED low voltage lighting is a standard for many builders, architects and developers around the world. Hadco pays special attention to the construction and reliability of their products resulting in best in class outdoor lighting.
The Hadco landscape lighting line is durable enough for the most demanding commercial installation but also is a great choice for residential landscape lighting especially in large expansive areas where reliability and consistent performance are integral to the outdoor aesthetic.
Inside both the LED line voltage and LED low voltage lighting collections you will find outdoor accent lighting, wall wash lights, down lighting, deck lighting, pathway lighting, bollards, step lighting, in-ground lighting, and flood lighting. At Brand Lighting we are factory authorized Hadco representatives. We have over 35 years of landscape lighting experience ready to help you find just the right Hadco lighting! Call or chat today.
Conventional lighting technologies have been the traditional way of lighting streets, buildings and homes. Conventional lighting exists out of Halogen, Fluorescent, Compact Fluorescent, Compact High Intensity Discharge and Incandescent lamps.
HADCO LED lighting is highly efficient, long lasting environmentally friendly and inherently controllable – enabling both new and traditional applications of light.
Landscape lighting techniques
Trees, statues, pools, walkways; what features make up your landscape project? Which elements in an environment should be highlighted, and which should be down-played? The answers to those questions will determine the lighting fixtures and techniques you'll ultimately use. Hadco landscape lighting provides you with options to light your entire outdoor area. Using some basic landscape lighting techniques you can create a dramatic or subtle outdoor lighting scheme.
Accent lighting is lighting that focuses attention on a particular object or area. It commands the viewer to take note of a certain subject within the landscape. Examples of accent lighting are spotlighting a statue, path lighting a walkway or highlighting a flower bed with spread lights.
Fill-in lighting is another form of outdoor background lighting. It ties the overall landscape picture together, creating a comfortable transition from one accented area to another. Some examples may be backlighting a tree, washing a wall or fence, or flooding a row of evergreens with soft light.
Down lighting may seem more natural because we are accustomed to the light of the sun and moon. In fact, most of the lighting that occurs naturally in life is from above. Office lighting, warehouse lighting, sports lighting, and home lighting are all examples of downlighting techniques. Downlighting is also very efficient in that you get to use all the light.
Outdoor up lighting tends to draw more attention and is often more dramatic. Therefore, it is used for accent lighting purposes more often than downlighting.
Exterior Back lighting is used to silhouette a plant, tree, or structure. Many times the shape of a plant is more interesting than the detail. By gently lighting a wall or fence behind the plant, you identify the shape.


HADCO pathway & safety lighting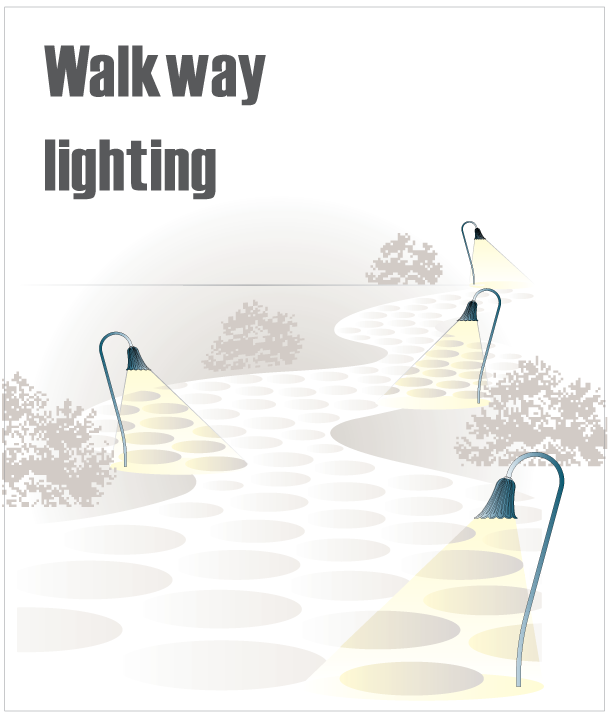 Effect: Walkway lighting creates symmetrical patterns of light for illuminating walkways, steps, entrance pathways and exit paths. Used primarily for navigation purposes through landscaped gardens and entrances.
By lighting only the entrance to a walkway, any turns, and all changes in elevation, you may avoid the runway look and still accomplish the task of subtle security lighting. Placing fixtures near plant material can create shadows and interest rather than just lighting the hard surface. The height of the path light will determine how intense the light hits the ground, by choosing higher less intense path lighting you can create a more washed out path or place them closer to the ground for a harder light. Determining the type of walkway lighting will set the tone for the entrance to your property.
pathway lights, inground lights, spread lights, underwater lights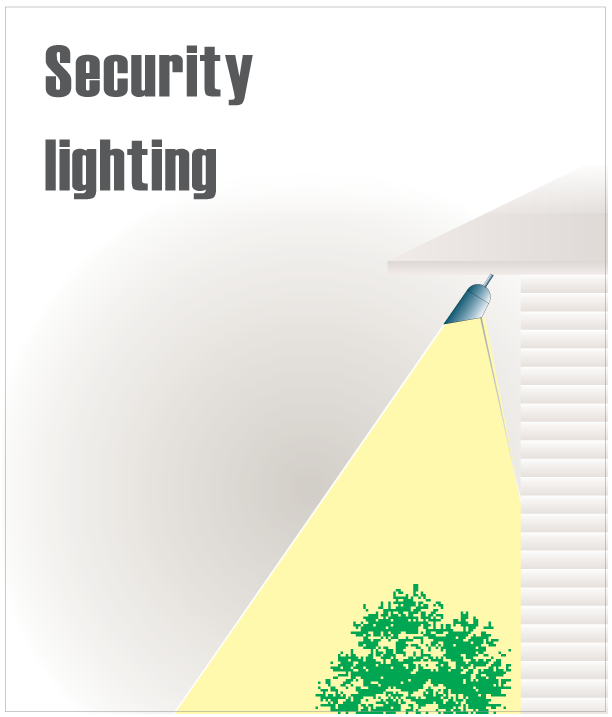 Effect: Security lighting fills in areas of darkness where animals and intruders could hide. The right combination of low-level lighting in the landscape will improve both security and appearance. Over use of security lights can overwhelm the remaining decorative lighting
Effective residential security lighting is not prison yard lighting. The goal is to be able to see movement and key aspects of the property. This can be accomplished best with lower levels and more sources rather than one or two bright sources (thus you can avoid glare). Using down lighting and spread lights your can illuminate an area or use beacons to draw attention to danger areas. Security lighting can complement your lighting plan by adding motion sensing technology to turn on flood lights only when motion is detected.
Bullets, Mini Flood lights, Inground lights, Deck lights, Step lights, Path lights, Spread lights, Beacons
HADCO Outdoor Accent Lighting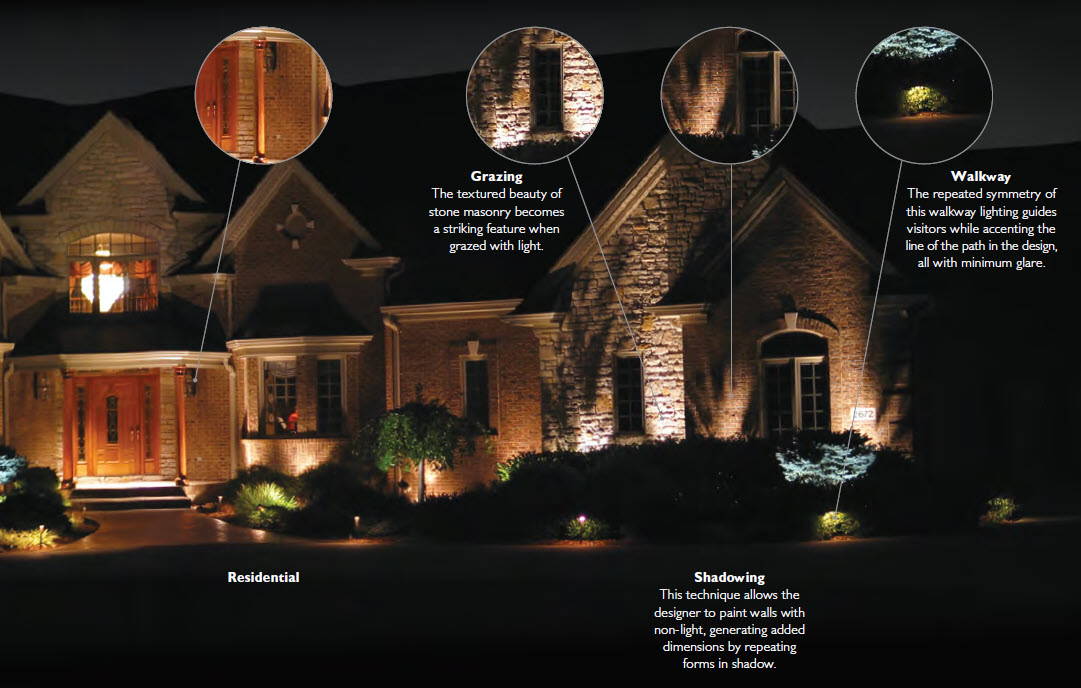 Choosing the right landscape accent lighting is about identifying what elements you want to highlight, which to hide and those to reveal. Hadco outdoor lighting allows you to create the ambiance you are after by combining landscape lighting types to create a theatre for your home and garden. Using a combination of wall wash lighting to provide a lighted backdrop for the accent lighting which grazes the windows and up lighting which highlights elements of the facade. Use the tips below to find the perfect landscape lighting fixtures for your home or office.
To add safety & security to your property utilize pathway lighting that can illuminate entrances, exits, gardens and more. Walkway lighting provide broad and pin point illumination options to create a walkway that is inviting and secure. Hadco spread lighting helps to highlight low cut foliage and shrubs. While deck lighting and step lights further illuminate your way around your exterior living area.
At Brand Lighting we can help you put together the best landscape lighting plan or your home or office. Contact us today to learn more about landscape lighting rom Hadco and many more.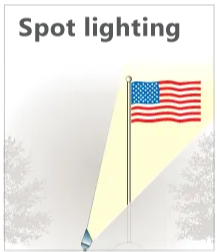 Effect: Focuses an intense beam of light on a particular subject to showcase focal points.
Tip: It's best not to light focal points uniformly or evenly.
Landscape lighting spotlights are used for emphasis – to call attention to specific architectural or garden features. Unlike floodlights that shed light across a wide area, spotlights have narrower beams so they can focus on one target at a time. It's best not to light focal points uniformly or evenly, this can give the subject a washed out appearance and removes details. Statuary should be lit from overhead when possible. If you must light from the ground, place fixtures further out and aim back at the subject. Two levels of light work well; a spot on the facial features and a flood on the body creates a dramatic presentation.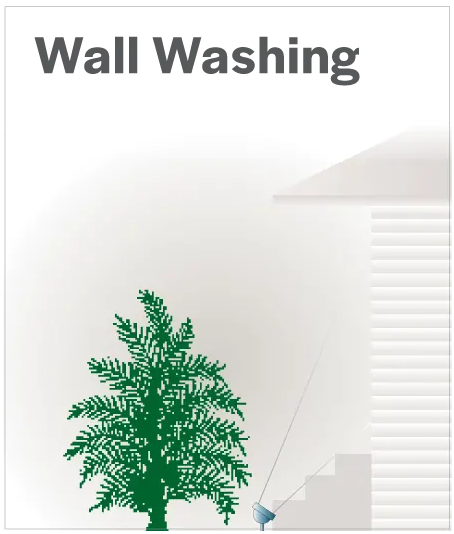 Effect: Gently illuminates a wall or fence to create a backdrop for the main focal points.
Tip: Avoid bright spots by positioning the fixtures 18" to 24" away from the wall.
Wall washing provides a blanket of illumination along the sides of your building. This creates a backdrop for highlighting decorative and landscape accents with additional focused light. Many lighting designers have found that wash lighting is the secret ingredient to set the stage for true outdoor ambiance. It is indirect lighting that transforms the dark and ominous backdrop into something friendly and familiar. When done correctly, wash lighting has a way of blending in the backdrop without obscuring it. It can be used effectively along natural shrub walls as well as architectural facades.
Wall-washers, Mini Flood lights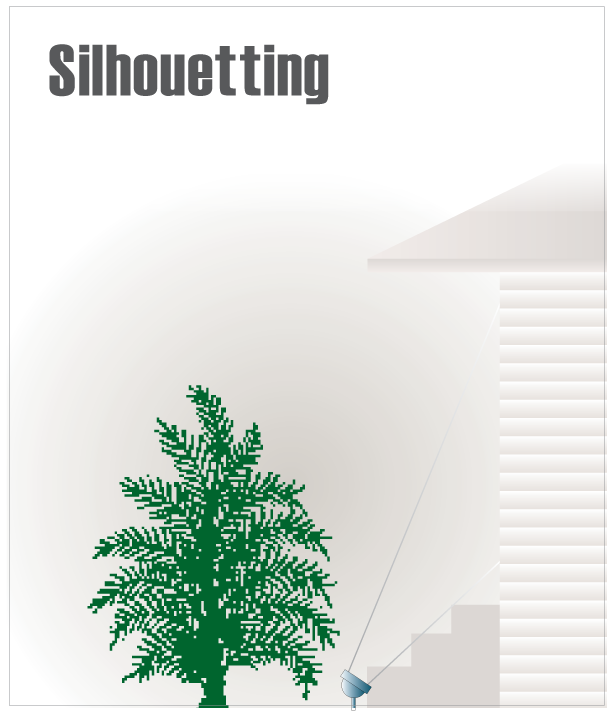 Effect: Displays a dark image of the subject by lighting a vertical surface behind the subject. Effective technique to show shape, but does not show color or texture of the subject. Accomplishes wall washing at the same time.
A silhouette is defined as an outline that appears dark against a light background. More specifically, it is where your subject is seen as a black shape without detail against a brighter background. To accomplish this with landscape lighting, choose a subject that is close to a wall and place the fixture out of sight behind the subject. Flood beam spreads or wall washers work the best. This gives the subject a washed out appearance and removes details. Statuary should be lit from overhead when possible. If you must light from the ground, place fixtures further out and aim back at the subject. Two levels of light work well; a spot on the facial features and a flood on the body creates a dramatic presentation.
Bullets, Wall Washers, Mini Flood lights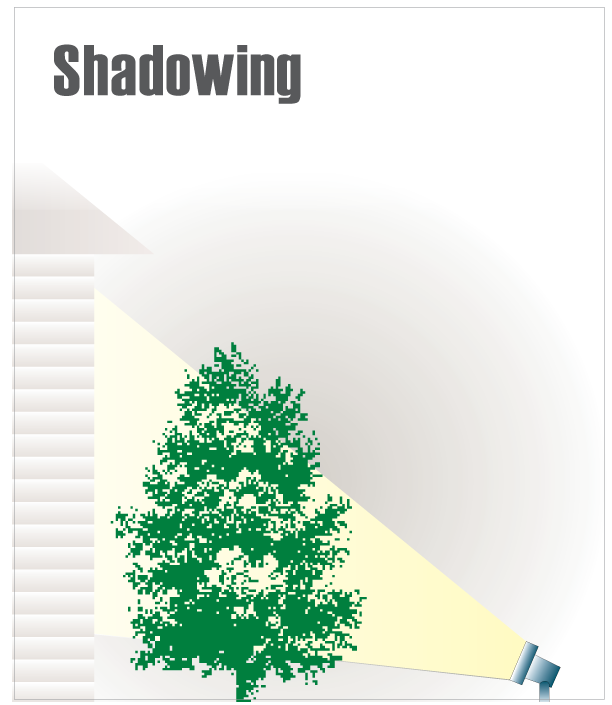 Effect: Creates a shadow on a vertical surface by placing the fixture in front of the subject.
The shadowing technique is similar to Silhouetting, but with the spot light in front of plant material that has a tall adjacent wall so that dramatic shadows are created as a back drop. This method of lighting is an excellent choice for young landscapes typical of new construction because it transforms a small plant and a large plain wall into a high drama effect that moves with the wind. Good subjects for Shadowing are plants that have open delicate foliage. Best on open growth plant material. The closer the fixture to the subject, the larger the shadow will be. General illumination lamps create a better effect, use a T-3 or bayonet base lamp instead of an MR or Par lamp.
Bullets, Wall Washers, Mini Flood lights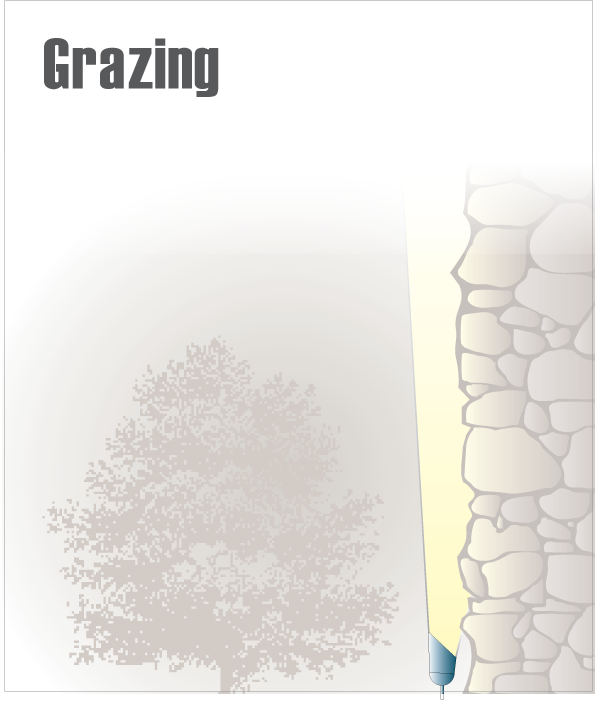 Effect: Enhances texture of a surface by positioning a fixture close to the surface and aiming the beam upward or downward.
The grazing technique accentuates the texture of the surface being illuminated. Simply place the light fixture close to the plane of the wall, fence, or other feature, and direct the light beam obliquely across the subject's surface. Grazing is particularly dramatic way to highlight the texture of a stone or brick wall, or a large tree trunk. Try grazing on brick, stone, and stucco walls or any interesting masonry. Wide floods work best on walls or wide surfaces. Place fixtures 6" to 8" from the surface. When up lighting, put as much light as possible on the underside of the eave. This will reflect back a good amount of ambient light, many times sufficient to light sidewalks. Remember to aim the lamp with the horizontal beam pattern parallel to the wall. Don't forget the texture of tree trunks.
Bullets, Wall Washers, Mini Flood lights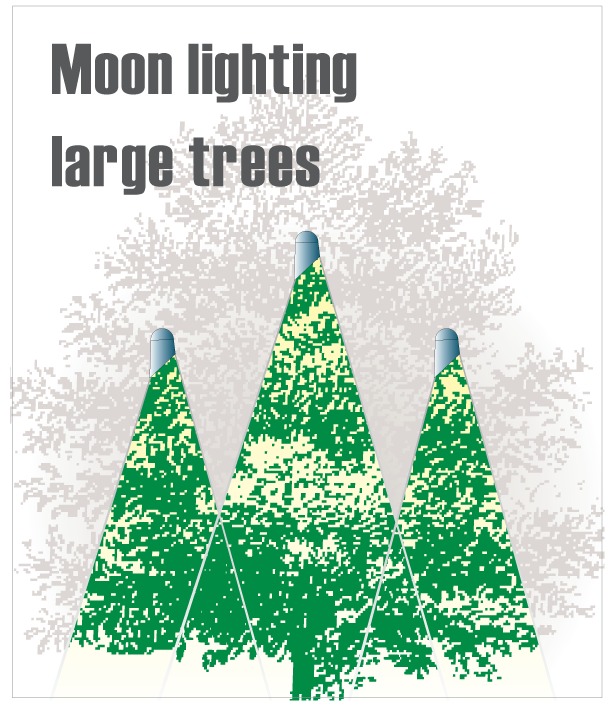 Effect: Simulates the light of the full moon filtering through the foliage of a tree. Projects shadows on the ground and lights what is under the tree (paths, sidewalks, flowers, etc.).
The most natural form of lighting is created by positioning a light source high above the garden in trees and diffusing the light down through the leaves and branches, which cast graceful shadow patterns on the ground below. Moon lighting should create a low level, even ambient illumination. Mount with proper tree mount accessory. Always run wire or conduit up the non-viewing side of the trunk. Best mounting height is approximately 20' and consider composites for their light weight. Aim down as much as possible to prevent glare and mount fixtures in open areas of the foliage to avoid hot spots. The lighting fixtures must be installed high in the tree and angled for best effect.
Bullets, Mini Flood lights, Down lights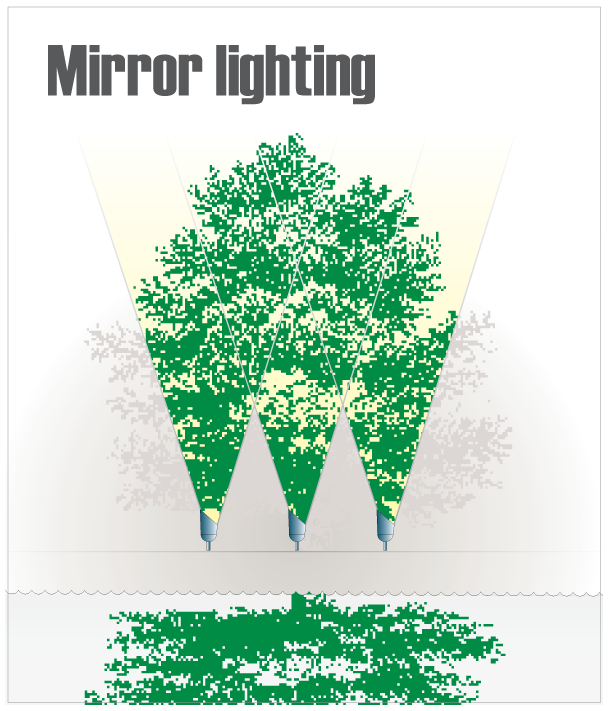 Effect: Lights a background scene to reflect it into a nearby body of water.
This dramatic effect is best used with medium sized bodies of water or water feature. By placing a fixture between water and the scene behind the water you can cast a beautiful reflection into the water, creating a moon light experience. From the primary viewing area, observe what is reflected in the water in the daylight. Then uplight those items to achieve the same view at night. Avoid downlighting including path lights) around water as the light source will be reflected in the water causing glare.
Effect: Combines simulated full moon light filtering through the tree and up lighting from within to illuminate the canopy. Creates a softer light on the trunk and keeps all fixtures off the ground.
Mount downlights on tree mount accessory 15' to 25' and use shrouds and/or louvers to reduce glare. Also consider using spread lens to widen the beam of the lamp. Mount uplights in the lowest forks of tree on tree mount accessory. Shrouds and louvers not necessary on uplights. Use wide beam lamps for all fixtures. Run wire up non-viewing side of trunk.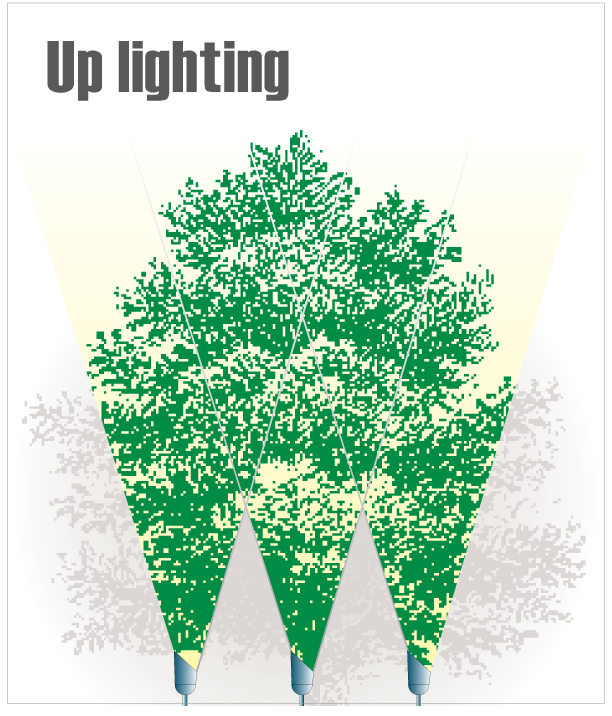 Effect: An unnatural, therefore dramatic way of lighting trees and architectural structures. Highlights details on structures and can be used to repeat patterns to create interest.
For dense foliage trees, place the fixtures outside of the drip line and aim back approximately 45°. Open growth trees can be lit by placing fixtures closer to the trunk. In all cases, get light to the top of the tree. Since a lot of light can be lost with up lighting, take care to aim fixtures so you can recapture the lost light. (Large trees in the background, peaks of structures, eaves to reflect light back). Look for interesting details to highlight on architecture.
Bullets, Mini Flood lights, Inground lights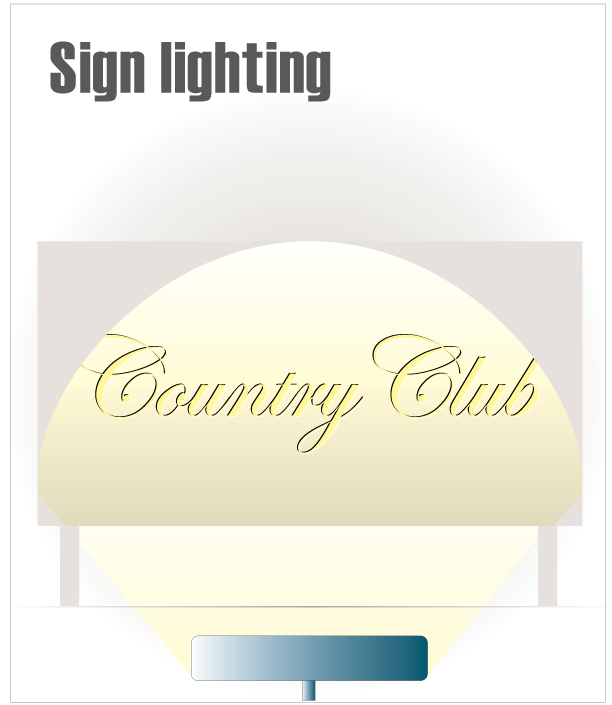 Effect: Identifies signage after dark: entrances to sub-divisions, country clubs, office complexes, and small shopping centers.
Tip: Choose optics that complement the orientation of the sign.
Choose optics that complement the orientation of the sign. Wide floods for horizontal signs and bullets or ingrounds for vertical signs. Choosing the right combination o intensity and color can have a distinguishing effect on your business. If the sign contains neon or other lighting, consider how lighting from the sight will interfere with sign lighting before committing. Mounting hardware can also be revealed or hidden by sign lighting. Determine the architectural elements that should be lit as well.
Bullets, Mini Flood lights, Inground lights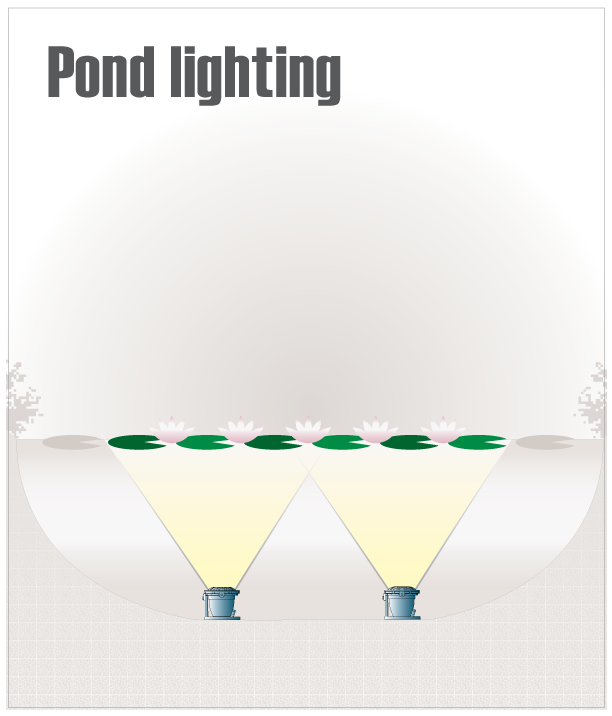 Effect: Illuminates and identifies water in ponds and water features.
Tip: Water should "look" clean enough to drink. Avoid lighting still, stagnant water with white light.
Use colored lenses if water is not clean, or to create different atmospheric effects. Place light fixtures under objects or plant material in the water for interesting effects (lily pads, boulders, art, etc.). For a different approach, light material behind the pond to create the mirror effect and leave the pond dark. Lighting designed for ponds is often designed to cast soft shadows as a full moon would naturally. This brightness is the most appealing to the eye, creating a natural, soothing effect. Most pond fixtures use low voltage lighting since strong lighting is generally unnecessary for most backyard ponds and water features.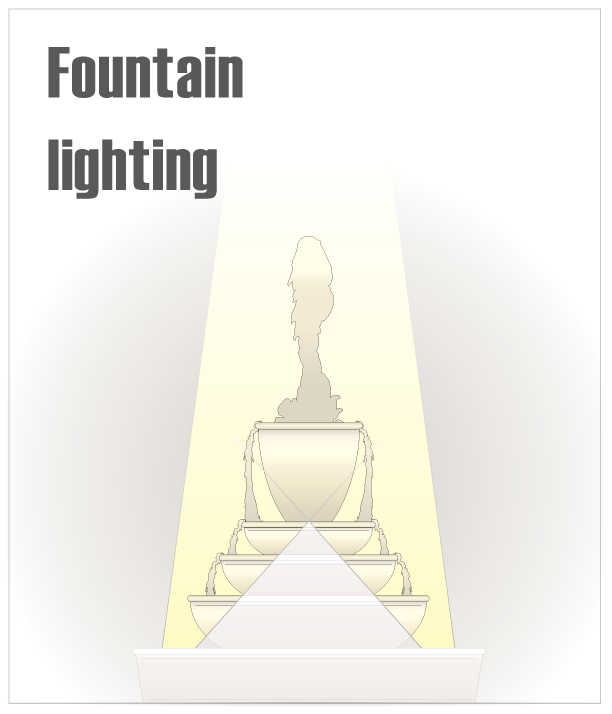 Effect: Creates dramatic effects of water movement in fountains and water features while enhancing the structure of the fountain.
Tip: Water must be clean or moving. In most cases it is better to light "through" water than "at" water.
Allow the water to fall directly on the fixture. If possible, try lighting tiered bowl fountains from overhead. Otherwise, each bowl should have a fixture in it. Avoid over lighting and lighting evenly around the structure as this tends to wash out the detail. Underwater LED fountain lights are highly durable and the number of times typically has no effect on the lifespan of the fountain lighting fixture. With RGB and colored lenses you can accomplish a large range of accent lighting on fountains and water features. Cool blue and soft green are popular fountain lighting colors in South Florida but that may vary by your location and preference.
Bullets, underwater lights
exterior mountings & sizes
Hadco outdoor lighting is designed to contribute a consistent appearance with complementary style to your home for many years to come. From a distance let your eyes be the judge. The entrance to your home or property sets the style and mood of its owners. Choosing a fixture that is properly proportioned to its surroundings is critical. The following series of photographs are used to illustrate this point. At Brand lighting our lighting experts can offer expertise in helping you select the correct size fixture for your application.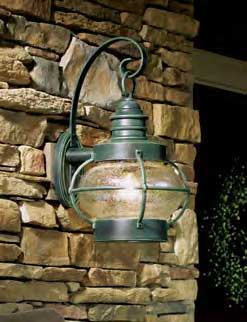 With numerous designs to choose from, Philips Hanover Lantern has a style to compliment any architecture. Each series has multiple sizes and mounting options, so you can find the appropriate fixture for your application. With 20 finishes to select from, we can beautifully integrate with your exterior color scheme.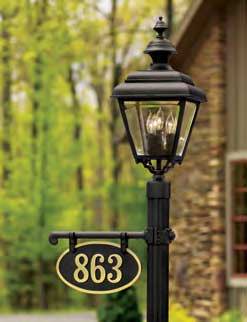 Philips Hanover Lantern offers an expansive line of posts and designer base wraps to compliment all of our lighting fixtures. Whether you use a single post outside your front entrance, or multiple posts to line your driveway, you will provide security as well as beauty to your property.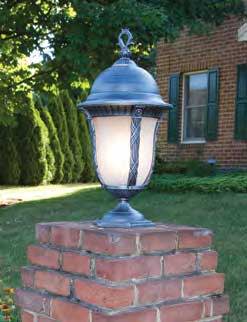 Create a dramatic entrance to your property with the use of our pier mounted fixtures. Philips Hanover Lantern manufactures a wide range of models and sizes for any application. Perfect for stately entrances, pier lighting is available in classic traditional designs.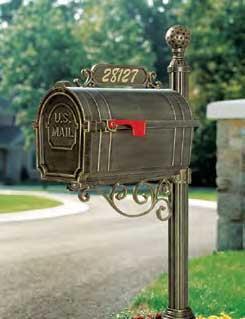 Mailboxes & Sign Lighting
Add a totally integrated look to your property with the addition of a sign or mailbox. Philips Hanover Lantern offers many standard cast aluminum signs in a variety of shapes and sizes. Our upscale mailboxes, available in your choice of any of our elegant hand applied finishes, are manufactured in a variety of configurations and sizes.
outdoor finishes & materials
Some lighting fixtures should be statements unto themselves; others should blend into the environment they serve. A fixture that improperly stands out from its surroundings will distract from the artistry of the application. That's why choosing the right material and finish is just as important as choosing the right lamp. To maximize your choices, Philips Hadco offers an assortment of materials in a spectrum of finishes, each painstakingly developed to harmonize and endure in naturally occurring environments.
Hadco ULTEM High-Performance Polymer is a composite material that resists chipping, flaking and fading. Perfect for harsh environments, these composite fixtures are available in Black, Bronze and Verde ... ready to blend into common varieties of soil, mulch or vegetation.
Hadco die cast aluminum fixtures feature thermoset powder-coat finishes for lasting beauty and durability. In addition to Black, Bronze, Verde and White, other finishes are available for a variety of applications. Garden Green blends into darker vegetation, Sienna matches landscape stone, and Speckled Stone takes it's cues from the color palette of the desert. Each finish makes its own statement of style.
Designed to resemble concrete, Hadco Limestone and Sand Stone finishes are developed with actual aggregate, which is bonded to cast aluminum and sanded for unmatched beauty and durability. Spun copper fixtures and cast brass fixtures are natural and will patina over time; or you can choose them pre-aged with oxidized finishes like Antique Copper or Oiled Brass. And for a natural finish that never loses its shine, we offer Stainless Steel.
Don't see your finish here? Don't worry. We have hundreds more standard colors, plus color matching. See all available finishes in the Catalog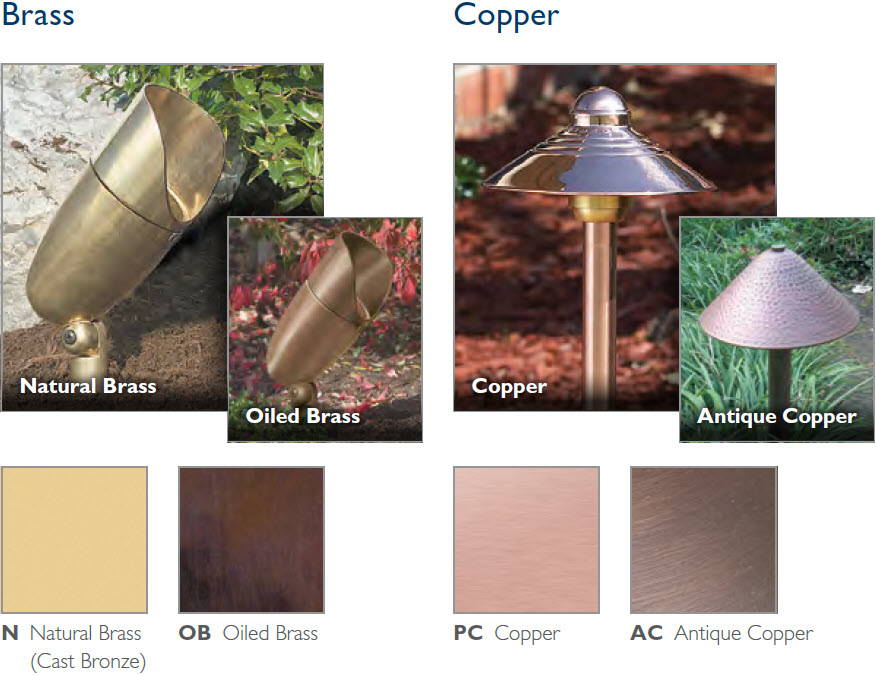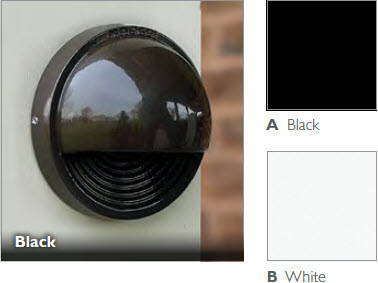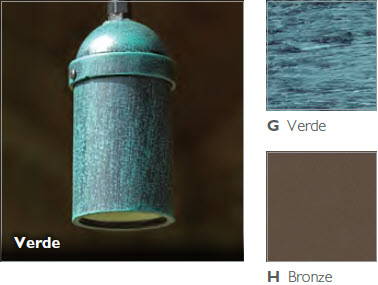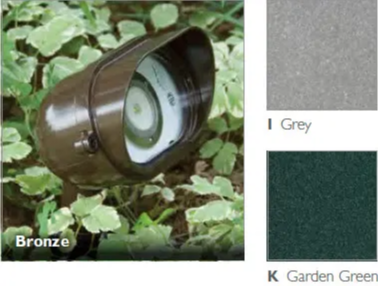 BRAND LIGHTING - HADCO COMMERCIAL LIGHTING EXPERTS IN SOUTH FLORIDA
For over 35 years the Blum family at Brand Lighting has been helping trade professionals and homeowners find the best Philips Hadco lighting for their project. Brand Lighting works closely with you to make sure you find just the right light for your commercial or residential lighting project. Call our family of seasoned lighting experts today to explore all the lighting options from Hadco Lighting available at Brand Lighting. (888) 991-3610