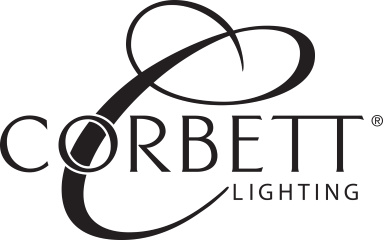 Corbett Lighting produces some of the industry's most sought after lighting fixtures. A strong history of hand craftsmanship and an uncommon eye for detail differentiate Corbett from the competition. Corbett chandeliers, pendants and wall sconces adorn the walls of the world's most iconic locations. From hotel lobby's to decedent dining rooms, Corbett Lighting produces exceptional hand made lighting that captures the essence of yesteryear in a modern form. Designer's and trade professionals love Corbett's attention to detail their ability to customize nearly any fixture in their line. With many fixtures proudly finished in the USA, Corbett continues to innovate exquisite lighting solutions for the world's most demanding projects. Contact our lighting experts to learn how we can help you find the perfect Corbett fixture for your residential or commercial lighting project.
With an extensive catalog of high end imaginative lighting fixtures, Corbett lights up the homes of some of the most discerning clientele around the world. Call us to learn more about the possibilities of Corbett lighting for your home or commercial project. .
Our four industry-recognized brands are united by a few common principles: the pursuit of excellence, a design-driven culture, attention to ever-changing environmental considerations, and commitment to the highest possible quality. Leveraging a deep network of engineering skills and capabilities, our family of brands push the envelope with each new collection while responding with agility to market demands. Whether you're trying to find the perfect sconce to raise the game in a powder room or specifying lighting for an entire new build, our four brands offer something for every space.
In 1939, William Littman, a Brooklyn-based inventor and David's grandfather, was greatly inspired by the fluorescent lighting introduced to the mainstream building industry at the New York World's Fair. By 1947, what began as a garage-based business had grown substantially and the Littman family moved upstate to expand operations in the Hudson River Valley. David's own apprenticeship to the lighting industry began when he was in high school and started working in the warehouse of his father's commercial lighting factory. Though David soon moved to Boston to attend BU and earn a Bachelor's in Accounting, he returned each summer to resume duties in the family business. After graduating from George Washington in 1985 with an MBA in finance, David decided to come home and build his career in Orange County. At only twenty-three, David took the helm of his own business in the Newburgh, NY location where Hudson Valley Lighting continued to reside for the next three decades before moving to Wappingers Falls.
BRAND LIGHTING - CORBETT LIGHTING EXPERTS IN SOUTH FLORIDA
For over 35 years the Blum family at Brand Lighting has been helping trade professionals and homeowners find the best Corbett lighting for their project. Brand Lighting works closely with you to make sure you find just the right light for your commercial or residential lighting project. Call our family of seasoned lighting experts today to explore all the lighting options from Corbett Lighting available at Brand Lighting. (888) 991-3610