Legrand Outlets - Recessed Pop Up Outlets
Adorne Smart Home Collection
Modernize your space with advanced lighting control. Do more than adjust the lights with dimmer switches with Legrand's innovative Touch, sofTap and Wi-Fi-ready options. Legrand outlets offer a stylish balance of form and function. A seamless aesthetic is paired with modern technology for an efficient and affordable modern power outlet solution. Find yours, and then complete the look with a wall plate that matches your style.
At Brand Lighting we help Trade Professionals specify and deliver the best premium lighting options from around the world. Our seasoned professional staff can help you spec the right product at the right price. If you are a design professional, you can apply for our Trade Program to access wholesale pricing on Legrand outlets and switches. Apply Here
Ask the Adorne outlet experts at Brand Lighting about finding the right pop up outlets for your home or office! (888) 991-3610
ASK US ABOUT LEGRAND ADORNE OUTLETS
How To Buy LEGRAND Outlets
Legrand outlets create beauty and additional function for your home's power. From USB charging ports to sleek pop-in/out access, and wi-fi ready outlets, the Adorne outlets allow you flexibility unlike ever before. The Legrand Adorne outlets work with your pre-existing electrical, simplifying electrical installation for do it yourselfers. Legrand pop up outlets offer designer aesthetic at an affordable price. Need help finding the right Adorne outlet for your project? Call our lighting experts at (888) 991-3610, we will be happy to help you find the right configuration for your home or office outlets.
Modern technology has made life more convenient and efficient. The Legrand outlets are the perfect balance of form and function for your home or office. Stylish Legrand pop up outlets provide you with a concealed power option for kitchens, dens, dining rooms and any other area where wall outlets may be distracting.
Bring your home into the 21st century with Wi-Fi ready outlets from Legrand. The next evolution of the smart home automation lets you control your power via the mobile app. With app based lighting control you can control the power for connected devices such as table lamps, picture lighting, and accent lighting.
When current protection is required, either for damp areas or in work areas, Legrand offers GFCI protected outlets. These power outlets have built in circuit protection making them a perfect stylish option for bathrooms, bedrooms, and outdoor spaces.
Today's mobile accessories and connected devices are energy conscious. With Legrand's classic Energy Efficient outlets you can help reduce your carbon footprint with power saving technology built into each wall outlet.
In the kitchen it can be problematic to charge your mobile or computer accessories while utilizing the kitchen outlets. The Adorne USB power outlets come as a USB only charging source or as a combination of USB and traditional power. Easily charge your phone, tablet or other accessories directly from your wall.
Whether you are remodeling an old room or outfitting your new construction, Legrand outlets offer your design professional a great way to incorporate modern technology at an affordable price. Contact the Adorne outlet experts at brand Lighting for help in selecting the best wall outlets for your home or office. Call us at (888) 991-3610 for info and Trade Pricing.
LEGRAND Wi-Fi Ready Outlet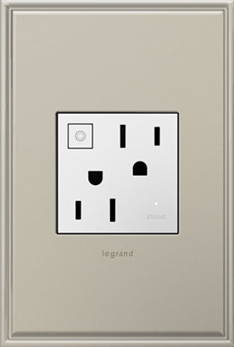 A Wi-Fi ready outlet that allows for control over a table or floor lamp from a new location.