Recessed lighting also referred to as downlighting or can lights, provides illumination for small and large areas via in-set ceiling lighting modules. These recessed lighting modules can contain a housing, trim and bulb or in the case of modern led recessed lights, simply an integrated light driver and trim. LED Recessed lighting is a great choice for living rooms, kitchens and nearly anywhere you need overhead ceiling lighting. With LED lighting you no longer have to worry about installing bulky recessed housings in your ceiling. Modern led recessed lights typically have a built in led driver, trim and self contained mounting option. This makes led recessed lights ideal for shallow and sloped ceilings as well as hard to reach areas such as a pantry or display area.
The best recessed lighting brands
Recessed lighting has long been one of the more complicated lighting options, making selection and installation a headache. With the advent of LED recessed lights, installation and maintenance have become exponentially easier. The best recessed lights come from vendors who dedicate their product lines to recessed technology.
At Brand Lighting we bring you a carefully curated selection of premium led lighting brands. Online you find thousands of downlighting options with more available in our South Florida showrooms or over the phone. Call us today to learn how we can help you find the perfect recessed light for your residential or commercial project.
Line Voltage Vs Low voltage
Modern downlighting can be powered via low voltage or line voltage options. Line voltage recessed lights wire into your houses 120 VAC line, allowing them to be powered directly from your home' power supply line. While low voltage recessed lighting allows for step down of the house line voltage to a normalized voltage typically in the 12V range. Low voltage recessed lights are typically found with LED drivers since LED units require a fraction of the power that traditional recessed options.
Led recessed lighting offers several advantages over traditional lighting bulbs. Modern led lighting is energy efficient, utilizing a fraction of the energy that incandescent or halogen bulbs use while greatly reducing heat generation. This also allows for more efficient cooling of ceilings and attic areas. Traditional halogen and incandescent recessed lights have largely been replaced with the more efficient and controllable LED lamps. In fact you can easily find LED retrofit trims with many of our downlighting manufacturers. There are still occasions where halogen, fluorescent or incandescent lighting is applicable and you can find these options within many of our vendors. Call or chat with our showroom experts for all the options.
the difference between recessed lighting housings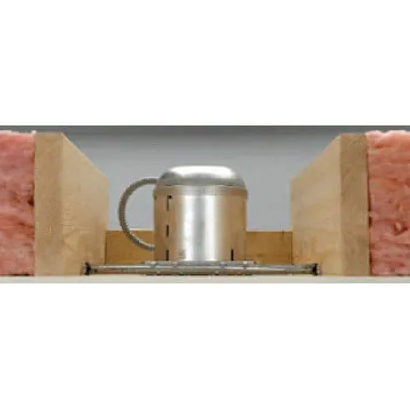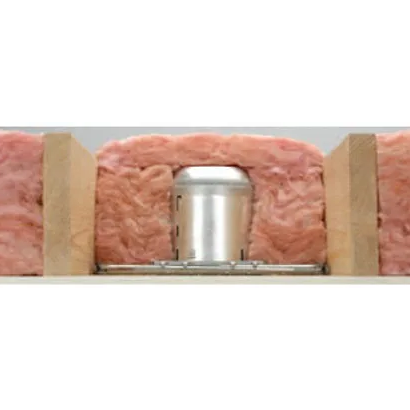 When adding recessed lights to your ceiling, the housing will sit above the ceiling drywall and may come into contact with ceiling insulation. Depending on your home's construction and in order to maintain safety code compliance, you will typically need to look for IC rated housing. IC (insulation contact) housings are tested and approved to meet the safety requirements of residential and commercial construction for housings that will be in contact with insulation.

Non-IC rated housing simply means the housing has not been evaluated for safe use when in contact with ceiling insulation. Non-IC housing can allow more heat transfer between the housing and the ceiling leading to dangerous conditions when in contact with insulation or other combustible materials.
Depending on your project you may need new construction or remodel housings with your recessed lights. New construction housings typically include a hanging bar and are meant to be installed prior to ceiling sheetrock or drywall. Typically builders and contractors will use new construction housings for new properties allowing them more room to secure the housings.

Remodel housings on the other hand are typically smaller enclosures able to fit in tight areas or through a cut out. These housings are meant to be used where ceiling space is limited or for replacement of existing downlighting. Remodel housings can be much smaller, especially for LED units where the housing is integrated with the driver and trim.
Types of Recessed lighting Trims
When selecting recessed trims you will find some common categories among vendors. Let's take a look at some common types of recessed trims that are popular for the home and office.

Recessed Baffle Trims: Typically have a ribbed interior that minimizes glare. Baffle trims are great for areas such as above artwork and media devices where glare is undesirable.

Recessed Reflector Trims: These trims have a reflective interior coating that amplifies the light creating as a spot or flood effect depending on the angle and depth of the trim.

Recessed Gimbal Trims: Gimbals are popular for artwork, kitchens and sloped ceilings. Gimbal lights pivot and adjust to focus light where you want it.

Recessed Wall Wash Trims: You will usually find wall wash lighting that uses a scoop to confine light to a specific spot on the wall. Wall wash trims are great for creating dramatic effects on interior walls and accent architectural areas.

When selecting a recessed trims you will have to determine the size, color and type of trim. The housing you select should meet your building code requirements and be of the same product family as your trims. If you are selecting led recessed lighting, there may be no need for a housing. Make sure to contact the recessed lighting experts at Brand Lighting before placing your order to ensure you have the proper recessed lighting components selected. We are here to help you find the right light!
Recessed shower lights are a great way to add overhead illumination in your shower or bath area. LED shower lights offer you an energy efficient way to light one of your most important rooms. Our selection of wet rated recessed lighting is ideal for use in showers and bathing areas.
Wet location air-tight LED recessed lighting housings and trims are made to be in direct contact with water making them an ideal solution for indoor and outdoor areas. While damp rated recessed lighting is a great choice for above stand alone bathtubs or above your vanity or dressing area.
Wet location recessed lights from WAC, Beach Lighting and Lotus Lighting are available in sizes ranging from 2" to 8" diameters as well as in regressed and baffle trims. If you need help finding the right recessed lighting for your shower or bathing area, contact the shower lighting experts at Brand Lighting!
wet vs damp location LIGHTS
Wet location and damp location recessed lighting can be used in areas with varying levels of moisture exposure. With wet location recessed lights you can confidently illuminate showers and outdoor areas that come into direct contact with water.
Damp location recessed lights are ideal for locations in which moisture may accumulate but the light fixture will not be in direct contact with water. Damp rated recessed lighting is ideal for above bathtubs and bathroom vanities to provide effective downlighting.
Choosing the correct fixture for your application can be challenging, let the wet location lighting experts at Brand Lighting help you find just the right fixture. With 1000s of wet and damp rated recessed lighting trims, our selection can bring your room the finishing touch it needs. Contact our South Florida showroom for the latest in wet and damp location recessed lighting.
recessed LED MULTiPLES & MICRO SPOTS

Recessed multiples are allow you to provide omni-directional downlighting for illuminating accent areas and artwork. LED multiples come in several layouts, the most popular being the 4 unit linear recessed multiples. The compact design of recessed multiple lights makes them a great choice to highlight interesting architectural elements or serve as perimeter accent lighting.
Most of our recessed lighting vendors offer a variation on multiples with each company addressing a particular challenge. Beach Lighting's mini multiples are an affordable yet powerful solution for smaller residential applications. While WAC Lighting offers a large selection of designer recessed multiples that are oriented for the high end residential and commercial markets. Ask our lighting pros about the best recessed lighting brands for your project today by chat, email or phone!
Modern recessed lighting incorporates the latest in technology to bring you a unique selection of intelligent downlighting. From energy efficient LED lighting to recessed lighting that integrates the latest in Artificial Intelligence and Voice Assistance, recessed lighting has come a long way from its cumbersome origins.

Lotus Lighting is renown for their compact LED recessed lighting fixtures. Their super thin and ultra thin recessed lights contain the latest in LED technology allowing for greatly improved energy efficiency and heat reduction. This LED lighting technology allows you to place recessed lighting in areas where traditional recessed lighting would never fit. With as little as 3 inches of clearance, Lotus Lights ultra thin recessed lights can illuminate those hard to light places.

Juno Lighting takes the recessed lighting category into the 21st century with their A.I Recessed Lighting. Available as a 6" recessed lighting trim and housing, Juno AI integrates Alexa for voice control of all your smart home devices from your ceiling lights. The central hub acts as a connection point for up to 200 IoT devices in your home. JBL incorporated speakers produce crisp sound for ambient music and voice assistant interactions. With Juno AI recessed lights you can convert your traditional home to a modern technology enabled home in as little as a few hours.

Recessed lighting technology has come a long way in just a few years. The release of more efficient LED technology and connected services means your lights are more central feature of your home than ever before. Our lighting experts stay on top of the latest recessed lighting technology to keep you up to date with the latest trends and technology. Contact our smart lighting experts at Brand Lighting for the most current options for your overhead lighting.
Commercial and Residential Recessed Lighting
Whether you are lighting up a new office complex or your newly remodeled kitchen we can help you find the perfect light. At Brand Lighting we have been helping designers and architects find the best recessed lights for their home and office projects for over 3 decades. Requirements between commercial and residential projects can vary greatly, that is why the pros at Brand Lighting are here to help you find the right light for your project from the start.

For commercial recessed lighting we offer a large selection of trims, housings and LED options from renown lighting manufacturers such as WAC, Juno, Lotus Lights, and Beach Lighting. Our seasoned commercial lighting experts are here to help you find, specify and deliver the right recessed lighting for your project. Contact us today with your project specifications to learn more about how we can help you impress your client with the right recessed lights.

Homeowners and residential designers can benefit from our large selection of downlighting. However, navigating the options can be challenging. That is why we have brought you some of the best recessed lighting options from WAC, Beach Lighting and Lotus Lights in an easy to navigate format. When you are ready to buy our expert sales team will review your order for correct assemblies and make suggestions on complementary or alternative recessed lighting options. At Brand Lighting we are here to help you find the recessed lights you'll love! Call or chat with an expert today.
BRAND LIGHTING - recessed LIGHTING EXPERTS IN SOUTH FLORIDA
For over 35 years the Blum family at Brand Lighting has been helping trade professionals and homeowners find the best recessed lighting for their project. Brand Lighting works closely with you to make sure you find just the right light for your commercial or residential lighting project. Call our family of seasoned lighting experts today to explore all the downlighting options available at Brand Lighting. (888) 991-3610